What is IMC and How Does it Relate to Inbound Marketing?
June 2, 2015
An Expert in Everything: Content Writing Tips for Any Industry
July 9, 2015
Late last year, we decided if we were going to continue to grow we needed to get serious about inbound marketing. Sure, we've been doing inbound marketing tactics for over 10 years, and we've done very well with it. However, as the internet became peoples primary source for information we realized that our approach needed to change.
We've always developed internet marketing strategies and been very good at executing the various tactics, such as SEO, PPC, Social Media and Email Marketing. However, our process had become fragmented and cumbersome simply due to the number tactics we were doing for clients and the various web tools we were using – think MailChimp, Hootsuite, Constant Contact, WordPress blogs, etc. In addition, we simply were not producing enough quality content to generate meaningful results in increasingly competitve markets. We wanted to go faster.
In addition, we wanted to expand our geographic reach. We've always ranked highly in the local organic search results for Greenville, SC and a few surrounding areas. However, it has been difficult to expand our organic search reach beyond our local marketing efforts.
It Was Time for A Change
We needed to make a significant change in our business model and our primary objectives were:
Provide better results for our clients…faster.
Streamline our internal processes, so we're spending more time on strategy and creative instead of execution and reporting.
Generate more organic leads for our own business. We want bigger clients with larger retainers that are serious about inbound marketing.
Increase our profit margins. Yes, I want our company to flourish.
Enter Hubspot
After months of considering options, we decided a change had to be made and the core of any solution would be the inbound marketing platform. We evaluated several options and elected to go with Hubspot. It was a big decision and a significant investment of time and money.
I decided if we were going to make a change, then we were going to go All In, starting with our own business because more leads are a good thing. 😉 Our goal is to add 12 new Hubspot clients in 2015 with an average monthly recurring revenue of $3,000 each. The goals seemed lofty at the time and as we got into our own Hubspot training I had my doubts. Inbound Marketing done right is hard — you have to "Do the Work" and I'm sure that's why so many fail. Failure to Do The Work was not an option. We committed to do this and were going to give it our best shot. If we failed, it wouldn't be from a lack of effort. P.S. If you need some motivation, go read Pressfield's "Do The Work". 
Within three months, five members of our team were Inbound Marketing and HubSpot Certified, and shortly thereafter we became the only certified HubSpot Solutions Partner in Greenville, SC.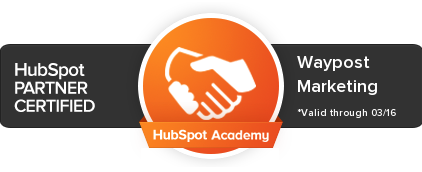 In January, we started offering Inbound Marketing using the Hubspot platform to new prospects. By that time, we were competent with the software and methodologies, and we were already generating results for our business,
So, how is our Hubspot experiment going?
I'm glad you asked. It's no longer an experiment. In 8 short months, we have increased our organic search traffic by over 1000%. Listed below is a graph showing our progress through May for visits from organic searches.
In the past, I thought we were doing pretty good with SEO. We always generated 8-10 leads per month. Boy was I wrong. We sucked and I'm not too proud to admit it. It's all about perspective and my perspective was warped. As of today, we're on track to surpass 2,200 visits from organic search in June and our total traffic will be over 3,000 visits (our traffic from social media is scaling similar to organic search).
Big Deal – More Traffic is Not Always a Good Thing.
Everyone doing inbound marketing knows this fact. The proof is in the leads and sales.
We're currently generating 10-15 leads per week, and by the end of May we had already engaged 6 clients that we're now doing full inbound marketing for, including marketing automation.  We're well on our way to exceeding our 2015 goals and we're generating similar results for new clients.
Is your business ready to go All In?