Why Does Inbound Marketing Cost So Much?
August 25, 2015
How Much Does a Website Cost?
September 18, 2015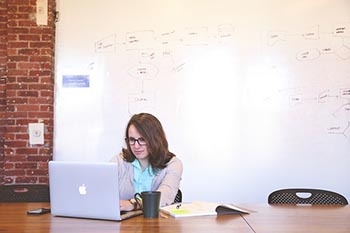 Blogging is often overlooked. With all the buzz and flash of new social media platforms popping up seemingly every day, it's easy to forget about this basic part of your inbound marketing foundation. Unfortunately, blogging is an aspect of content marketing that doesn't come naturally, or easily, to everyone. A business owner or employee who doesn't enjoy writing or feels uncomfortable building their blog presence may feel like regular blogging is more difficult than useful. Not true! There are many common myths and misconceptions that have cropped up around blogging as a marketing tool. We're here to help you see through those misconceptions and make sure you're utilizing your company's blog to its absolute fullest potential.
Misconception #1: Why Blog? Nobody Reads It.
If you go by the comment section of your company's blog, you may feel like you're standing in a wasteland. Maybe one or two comments per post; often, none at all. It seems frustrating and pointless to keep blogging if no one even seems to see it. What's the point?
Happily, your blog's comment section has essentially nothing to do with whether or not the blog is being seen! With the advent and increasing importance of social media, many readers who might have commented on the blog itself four years ago prefer to leave comments on the company's Instagram page, reply to the post link on Twitter, or comment on the company's Facebook profile. They may not comment on the blog itself, but email it or share it on Facebook with friends and family, expanding your reach beyond what it would have been otherwise.
Even if a post isn't receiving comments anywhere, that doesn't mean it's not still working hard to support your business. Blog posts are an important part of SEO, and consistent updates will help your business be easier to find by building more search engine results for the keywords that potential clients are looking for. The end of every one of our blog posts contains a Call-to-Action, a banner that helps make contacting your business or downloading your free premium content easier. These CTAs help lead your customers right where they need to be.
Misconception #2: Just Hit Publish, And Then You're Done.
You've spent days carefully crafting the perfect blog post about a product or service your business provides. You've edited, re-edited, and edited again. Every word is precise, every 'there' is the correct one, every Oxford comma is in its place. You hit 'publish', and… you're done!
Well… no. You've only made it to about step three.
The actual writing of the blog is only about 50% of what blogging is about. Once your post has been published, it's up to you to make it as widely available as possible. This is where staying up to date on the newest social media platforms and how they can be utilized becomes important. Link to your blog on Twitter and Google+. Post a photo referencing the new blog on your company Instagram, a link on FB, and even link to it on your company's LinkedIn page. Some businesses have even begun using the newest popular apps like Snapchat or Periscope to help their marketing efforts, and that includes announcements about their newest blog posts.
All this inbound marketing activity not only helps that new blog gain visibility online, but will continue to lead new potential clients back to the website itself. Don't just hit 'publish' and call it done — you'll never get the visibility you deserve.
Misconception #3: Blogging is a Piece of Cake!
Blogging tends to get a reputation for being the easiest part of digital marketing. It's just throwing some words down, doing a little rearranging, and calling it a day. Super easy, right?
Not exactly.
Blogging isn't just about throwing out keywords and links to your business, but about the creation of accurate and, above all, compelling content. It shouldn't just be an ad for your product of service; customers today are hyper-aware of when they're being advertised to, and they're searching for an authentic conversation with you that a bare bones, no-effort blog post will never provide.
We've all seen those company blogs that are doing it wrong — either they're dry as a history book, riddled with endless repetition that is impossible to read, or they just seem to be doubling as extra website pages instead of being used as a blog at all. Sure, blogs like that will continue to freshen the amount of content you provide, but if that content isn't worth reading, they'll still only be doing 20% of the work they could be for your business. A well-designed, well-written blog, on the other hand, may end up being the marketing powerhouse you didn't know you needed.
Not Much of a Blogger? That's Where We Come In.
The skills needed to write and maintain a successful company blog or perform the marketing needed to get your name and reputation out there may or may not intersect with the skills you're already utilizing to operate your business. That's why we've made it our mission to build your digital marketing from the ground up. Marketing isn't just about a few good blog posts and catchy tag lines, after all. Waypost Marketing gives you the total package; responsive web design and development matched with thorough Search Engine Optimization and storytelling on finding the right clients for you. Whether you're looking for email marketing, social media marketing, paid advertising, content marketing, or all of the above — Waypost Marketing is here to tell your story. Interested in learning what we can do for you? Give us a call at (864) 288-6162 or schedule a free consultation online!