5 Tips For Blogging in Professional Industries
June 1, 2017
Introduction to Facebook Lead Ads
July 27, 2017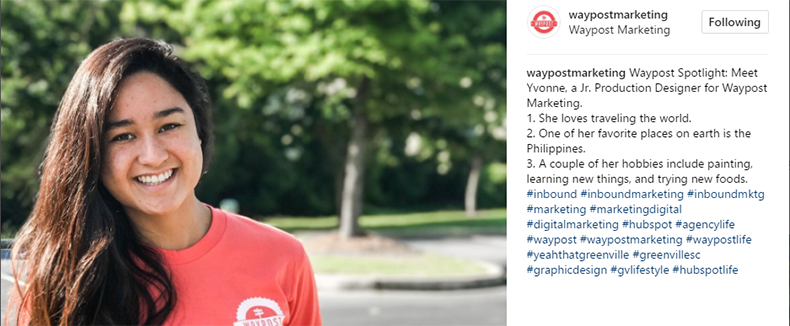 Have you seen our Waypost Spotlights on Instagram and other social accounts? We choose a member of our Waypost team, ask them a few questions, and help our clients (and our marketing community) get to know them a bit better.
Have you ever wondered why we do our Waypost Spotlight, and support similar efforts on behalf of our clients? It's not just because it's fun—although it is pretty entertaining. It also helps us with prospects and clients!
Let's take a look at how Employee Spotlights help client engagement.
It Encourages Collaborative Connections Inside the Workplace
First off, let's talk about how Employee Spotlights help us connect around the office.
The truth is, as small companies grow, interpersonal connections between coworkers can sometimes get lost in the shuffle. Once your company hits more than 50 employees, those on one team may not know the names of people on any other team, let alone their job titles.
Managers may see their employees as simply another spoke in the wheel, rather than a fellow human being they can connect with to gain ideas and essential feedback.
Employee Spotlights help to break down the barriers between teams and coworkers. You may find that Linda from HR plays intramural soccer on Saturdays, or that your team member Kimmy worked for a startup in NYC. These new bits of knowledge, which you might not think to share in your usual workday business, can help you connect emotionally with your coworkers, even if they're on totally different teams and you wouldn't otherwise see much of each other.
When different departments connect, they're encouraged to collaborate and think outside their usual spheres of influence. You may find brainstorming sessions involve new people, new ideas, and kick-start a whole new level of productivity and innovation.
Okay, But How Does This Help Us Find Clients?
Employee Spotlights tend to be popular when shared on social media, as the friends and family of the featured employee will like, share, or comment on these social posts. They can also up local engagement levels when location-based hashtags are used, such as the #yeahthatgreenville hashtag used for our own little city of Greenville, SC.
This increase in engagement helps the Spotlight posts find a wider audience, and could lead to networking when complimentary companies or personalities find each other.
Clients come across these posts and see a happy, engaged, connected company that not only emphasizes a willingness to work hard, they also show that they are willing to work hard together.
The simple truth is, an organization that has team members committed to each other's well-being and ability to excel in the workplace is an organization that will be even more dedicated to ensuring success.
In divisive organizations, and businesses where employee in-fighting or emotional distance is rewarded, it can be tough for new ideas to find a place to take root.
Perry may have big ideas on how to implement Inbound Marketing techniques at his workplace, but since he works in sales, he doesn't really know anyone on the Marketing team. Since Perry isn't sure who to go to with new ideas or if he'd even be listened to, the company stays stuck in their less-than-ideal marketing process, and Perry ends up frustrated and disillusioned.
What About Current Clients?
Employee Spotlights don't just help you find new clients, they can also help current client relationships!
Marketing and sales employees are in the business of building relationships—with their own clients, as well as prospects and leads. Often, these relationships are focused on the little marketing details that help everyone succeed, but don't contain much of a personal basis.
This emotional distance can make it harder for employees to more effectively work on behalf of their clients, as they're not really personally invested in the client's success beyond their own narrow daily focus.
Employee Spotlights help your clients get to know you, too!
You may find that a client you didn't know well is also glued to their seats on Sunday nights watching the newest episode of Twin Peaks, or that your dogs are the same breed.
Employee Spotlights are a great jumping-off point for encouraging friendlier and closer connections with current clients!
At Waypost Marketing, We Get to Know You As Well As Your Business
Inbound Marketing doesn't work if your marketing team doesn't know you. Waypost Marketing makes it our business to build our relationship not just with your potential leads but with you, too!
Connect with us on Instagram or our other social accounts to see future Waypost Spotlights and learn more about our team members here in Greenville, SC!
To get started increasing leads and sales, give us a call at (864) 288-6162 or contact us online at any time!